Startup CTO or Developer
August 7, 2023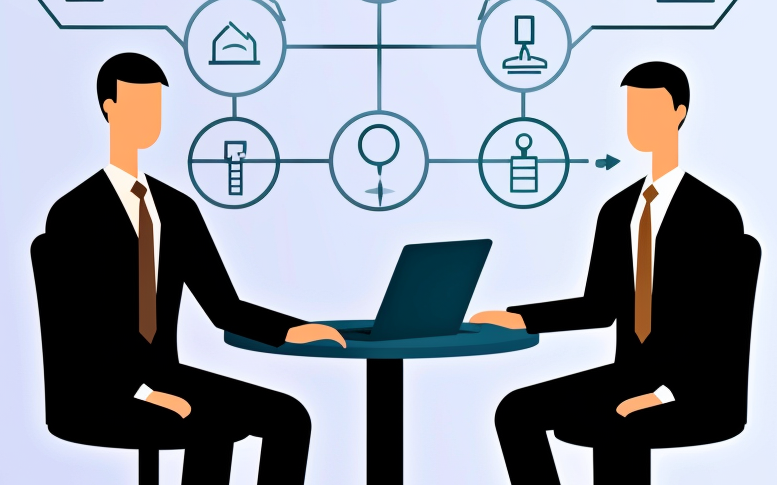 What does it mean to be a CTO for a startup? What does the role demand? Should a startup CTO spend their time programming? Exploring new technologies? Increasing competitive advantage?
The answer is: it depends.
The role of a CTO varies as the company matures. Here's a graphic from Socal CTO that illustrates the roles as they change over time: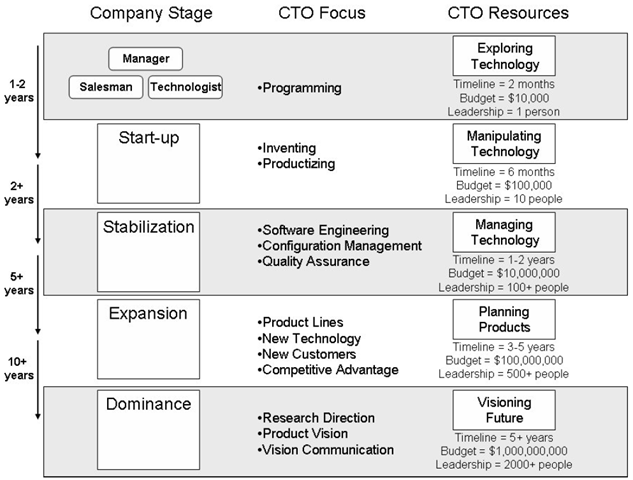 In its earliest days, a startup's top need is often to produce a product. Getting something to market and getting funding override any other concerns. That's why the CTO's attention is on programming for the earliest stage.  
But be careful, and mind the gap – the Founder-Developer Gap, that is! Hiring a hands-on lead developer might seem like the right move for an early stage startup. It's understandable – a hands-on developer can produce a product. But hiring a lead developer, or even a VP of Engineering, can create a gap between the founders and the developers.  
Founder-Developer Gap
How big is your startup's Founder-Developer Gap? Is it a tiny crack, or a widening chasm? And how can you tell?
One sign of a gap is questions – really, a lack of questions – coming from your developers. Check out our blog post 53 Questions Developers Should Ask Innovators. If you're not hearing those questions from your developers, you've got the gap.
Often, developers don't think to answer these questions. Instead, given a startup project, they'll default to building everything in-house, using technologies that they're already familiar with. This is a safe choice, of course – but is it the best choice? Is it the best path to profitability?
It might be. But you shouldn't rely on the defaults. A CTO can help you find the right answers.
Closing the Gap: Hiring A Fractional Startup CTO
We're not suggesting that early-stage startups should hire a full-time CTO. Instead, they should consider a Fractional CTO who can help close the gap. This is especially true when a founder has a strong vision but limited knowledge of the technology needed to make it a reality.
Bottom line – if you recognize this gap, then reach out to get a slice of a CTO who can help bridge the gap.
Can the Right Lead Developer Address This?
Theoretically, an outstanding lead developer can provide good answers to all these questions.  But our experience suggests it doesn't usually work out that way. And even if you prompt a good lead developer to answer, you'll likely still have a gap. This is because the lead developer will often be:
Limited by their experience and breadth of knowledge

More interested in diving in to build things

Challenged to pull together a good team

Motivated by the short-term because that's the focus of development

Tired at the end of a long day of programming and not interested in thinking longer term

Uninterested in or unable to add much value to investor presentations, business proposals, and new business meetings
Again, it can be done. It's just not a realistic expectation. You don't want to be in the meeting when the investor asks why you didn't use their favorite new technology – at least, not without a good answer! And you certainly don't want to be the company that spends time and money building something you could have picked up off the shelf.
More on the Role of the Startup CTO
Eric Ries, a great resource, answers the question What Does a Startup CTO actually do?
Platform selection and technical design

Seeing the big picture (in graphic detail)

Provide options

Find the 80/20

Grow technical leaders

Own the development methodology
And here are some links that are less Startup CTO, and CTO more generally:
If you know of more resources on this topic, we'd love to hear from you. Please write us at blog@techempower.com !