Startup Metrics
July 31, 2023
When talking to startup founders or other innovators, we always ask questions to better understand their business as a core. What does the business do? How does it meet customers' needs? And most importantly, how does it make money?  
One way to approach that last question is to use this simple model:
Customer Acquisition Cost  (CAC)
How will your business reach prospects? How will you convert them? And how much will it cost to win them?
Customer Lifetime Value (CLV)
How much money will your business generate from each converted customer?
These two questions/answers can help define the early proof points for your company. If you can demonstrate that your CAC and CLV numbers work as expected, then you've proven you can make money.  
Proving your Business Model Works – Build, Define, and Review
But how do you prove your numbers?  
Start by building just enough of your product to get early CAC and CLV signals (they won't be perfect). Don't worry about scaling just yet. If your numbers work out, then scaling becomes a question of capital. 
Next, define what you need from a metrics and reporting standpoint. Look at different customer acquisition channels, how they are converting, and the expected lifetime value of customers acquired through those channels. Apply costs to each channel. We need to make sure we have these numbers. Quite often the goal is to get them into a spreadsheet in a form that allows people to easily play with them.
Finally, review the numbers with your partners. Don't overcomplicate things with reporting tools.  Just get your numbers into a Google sheet so you can work with them easily.
Startup Metrics with Dave McClure
Dave McClure has a great presentation on Startup Metrics where he points to some additional metrics that are useful to consider:
A

: Acquisition – Where / what channels do users come from?

A

: Activation – What % have a "happy" initial experience?

R

: Retention – Do they come back & re-visit over time?

R

: Referral – Do they like it enough to tell their friends?

R

: Revenue – Can you monetize any of this behavior?
The metrics, and how they relate, are captured in his slide: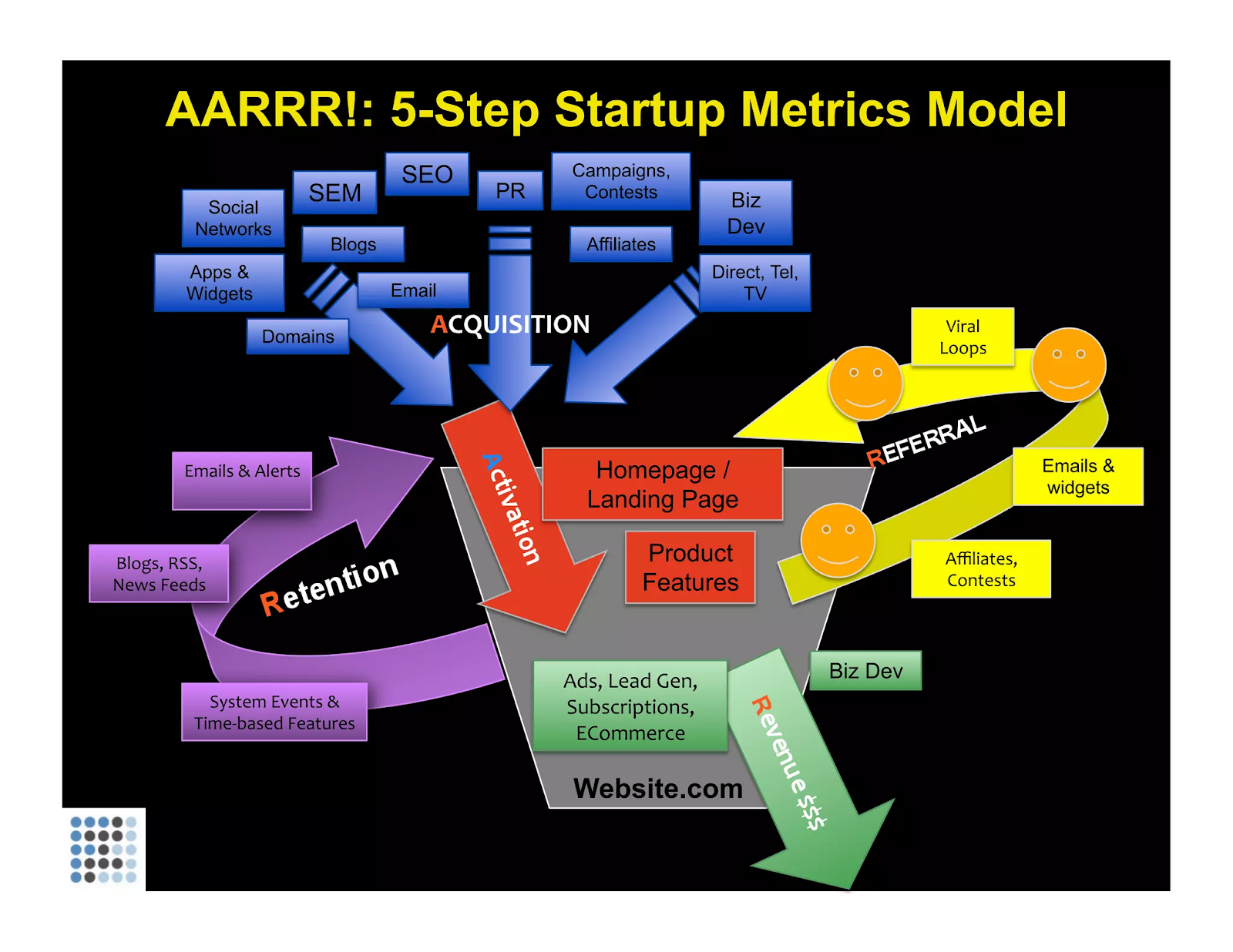 Note the relationship between retention/referral efforts and lifetime value. This isn't a simple, first-cut acquisition pipeline! Dave's model provides a much richer understanding of what's happening, but in a way that's understandable and measurable.
Another thing that Dave has done well is to look at the value of different marketing channels:


There's a lot of value in this presentation. Some key slides to check out:
The Progress is not equal to features (Less is More)

Focus on User Experience

Measure Conversion; Compare 2+ Options

Fast, Frequent Iteration + Feedback Loop

Keep it Simple and Actionable
Get Users (= Acquisition, Referral)

Drive Usage (= Activation, Retention)

Make Money (= Monetize)
Management: Setting priorities, defining key metrics, reporting progress

Product: Build the right features, getting product out quickly, testing for conversion/adoption

Marketing: Accessing "web 2.0" channels (search, social, viral, new media), cost-efficient distribution
We often reference Dave's work when talking to innovators. Be sure to check out the entire presentation.
Conclusion
Startup metrics are an invaluable tool for founders and innovators. Focus on building an MVP to gather startup metrics. Then use what you've learned in this blog post to decide if the numbers validate your business model, or if you need to rethink your approach.
If you know of more resources on this topic, or want to talk about anything startup or tech related, we'd love to hear from you. Please write us at blog@techempower.com !