Round 12 of the ongoing Web Framework Benchmarks project is now available!
A race against the clock
Recently, we were notified that the physical hardware environment we have used for Rounds 9 through 12 will be decommissioned imminently. This news made Round 12 unusual: rather than wait until we can equip and configure a new environment, we decided to conclude Round 12 while the current environment remained available.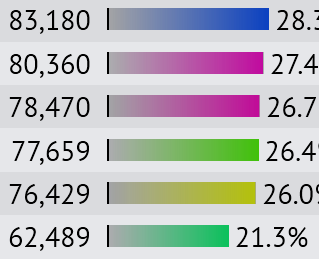 As a result, no previews of Round 12 were made available to the participants in the project. Pull requests that we would normally expect to see after a preview cycle will need to be processed for Round 12. So bear that in mind that participants were not able to sanity check the Round 12 results and submit fixes.
Furthermore, due to the modestly rushed nature (at least on our side) of Round 12, we elected to not capture Amazon EC2 results for this Round. The only data available for Round 12 is from the Peak dual Xeon E5 servers.
View the full results of Round 12.
We are now working to find and setup a new hardware environment for Rounds 13 and beyond.
Notable changes to Clojure tests
@yogthos noticed (in issue #1894) that the Compojure and http-kit test implementations were using def (value bound at compile time) instead of defn (value bound at runtime) for the JSON, single query, and fortunes tests. While the impact on the JSON test was likely minimal, this had a significant impact on the single query and fortunes tests because these implementations were not actually running a query for every request as expected. This change was unintentionally done in the Compojure test by TechEmpower staff, and then later copied to http-kit to keep the implementations in sync. We have corrected this error in Round 12.
Other notable changes
The plain PHP, Slim, and Laravel tests have been upgraded to PHP 7. For example, Slim's performance in the JSON test and Laravel's performance in the Fortunes test both approximately doubled versus Round 11 with PHP 5.
All JVM-hosted tests have been upgraded to Java 8.
Several new frameworks were added.
Thanks!
As always, we thank all contributors to the project, especially in light of the rush to get Round 12 concluded!